5G WiFi Bluetooth Projector, Native 1080P YOWHICK DP01 Mini Video Projector with 200'' Screen White
Regular price
$169.99 USD
Regular price
$199.99 USD
Sale price
$169.99 USD
Unit price
per
Sale
Sold out
Native 1080P: YOWHICK DP01 video projector has 1920*1080 full HD resolution and 8000:1 high contrast ratio. 33~200'' adjustable large screen restores the true color of the picture, providing clear and delicate definition images, whether home theater or outdoor movies, which can provide you with a more comfortable and ultimate visual experience. Outdoor projectors are smaller and lighter, easy to carry and use. (100'' screen included) 
5G WiFi & Excellent Compatibility: DP01 movie projector is compatible with iOS/Android/Win systems, just once WiFi connection then simple smart mirroring projection, you can achieve a fast connection and stable sync between the device screen and the portable projector. Equipped with HDMI /USB/VGA/AV/TF port, it can easily connect your TV stick, smartphone, PC/Laptop, USB memory, PS4, and other devices. (The projector mirroring function does not support copyrighted videos, you can connect the HDMI cable to play)
Bluetooth 5.0 & HIFI Dual Speakers: With the YOWHICK DP01 WiFi Bluetooth projector, you can connect your speakers or headphones at any time, Bluetooth 5.0 makes the audio synchronization faster and more stable, restores the sound effects of each scene truly, and enhances your immersion in the movie scene. The projector's dual built-in HiFi stereo surround speakers restore the original audio fidelity, allowing you to feel an excellent listening experience without connecting external speakers.
More Upgrade Functions:
1) With the Zoom function, you can adjust the projected image to 75% without moving the projector.
2) the upgraded cooling system greatly improves the heat dissipation efficiency and prolongs the service life of the movie projector. The built-in high-quality dust filter can effectively reduce the occurrence of black spots and ensure the stability of the image and brightness quality.
3) 3 ways projection supported: desktop placement, bracket support, and ceiling installation.
Wide Applications & Intimate service: This mini portable projector meets the leisure and entertainment needs of outdoor movies, home theater, party celebrations, game matches, etc. It also has passed multiple technical certifications such as FCC, CE, RoHS, etc., which better enhances its security. All YOWHICK projectors come with a 6-month free replacement, 2-year warranty, lifetime technical support, and 7/24 hour professional customer service.
Share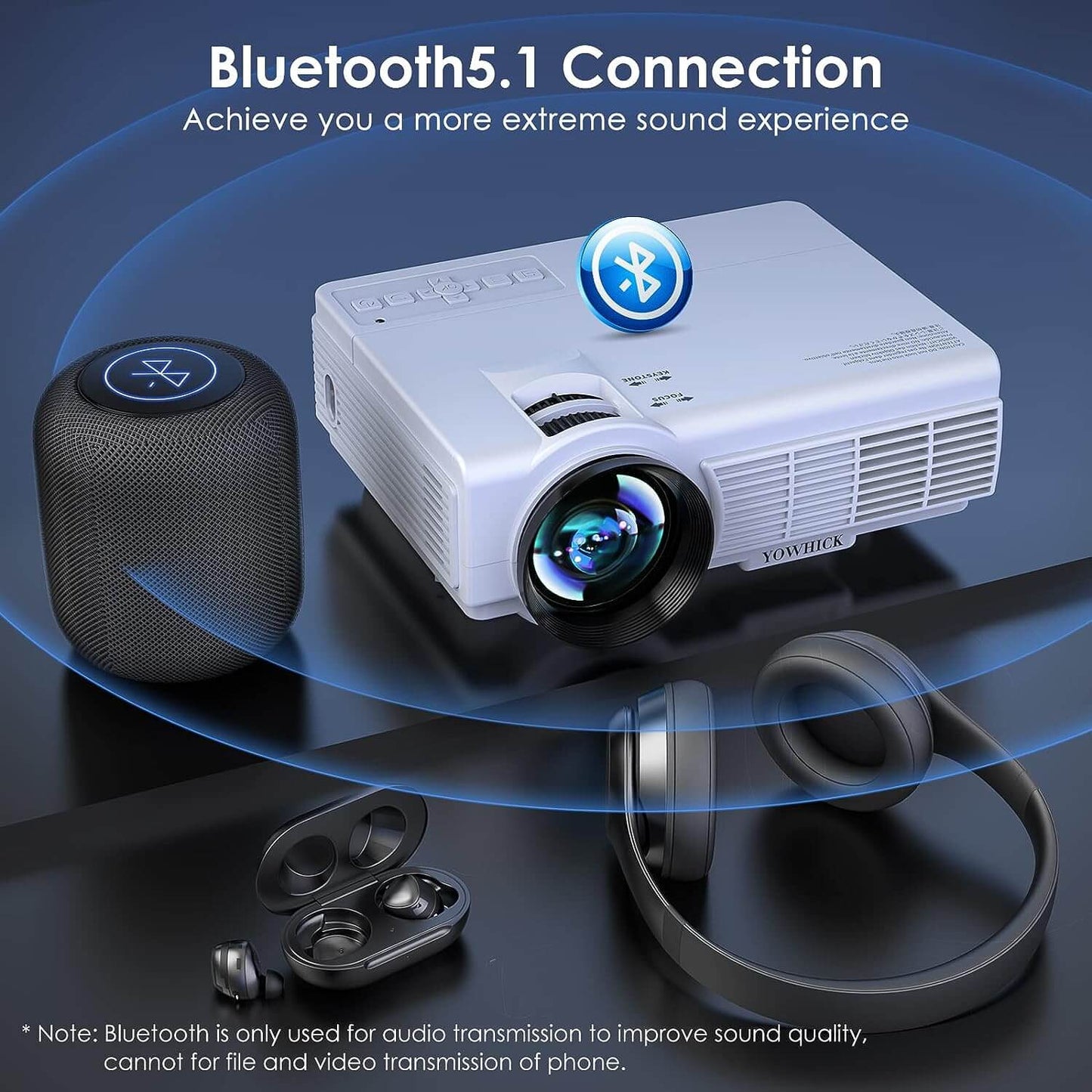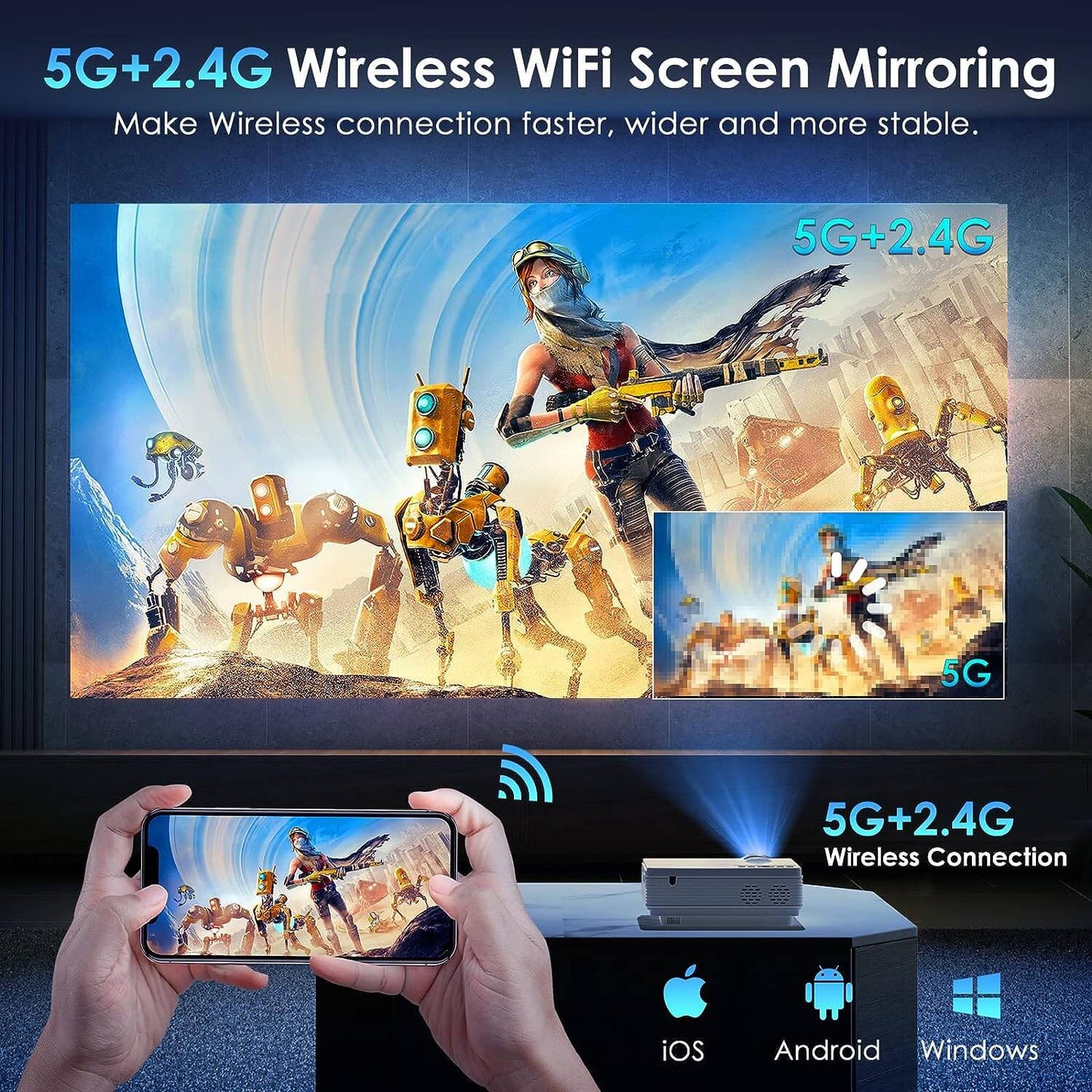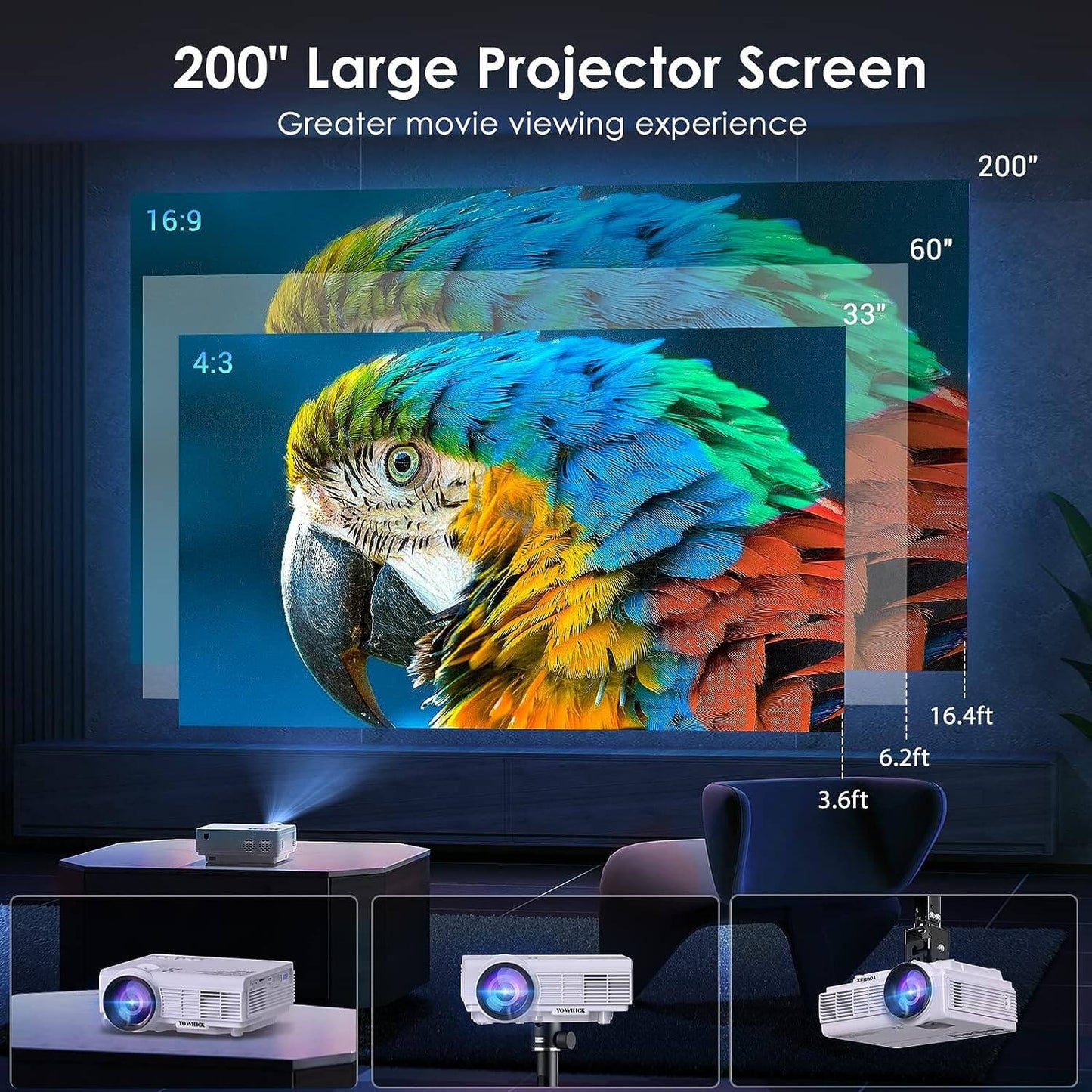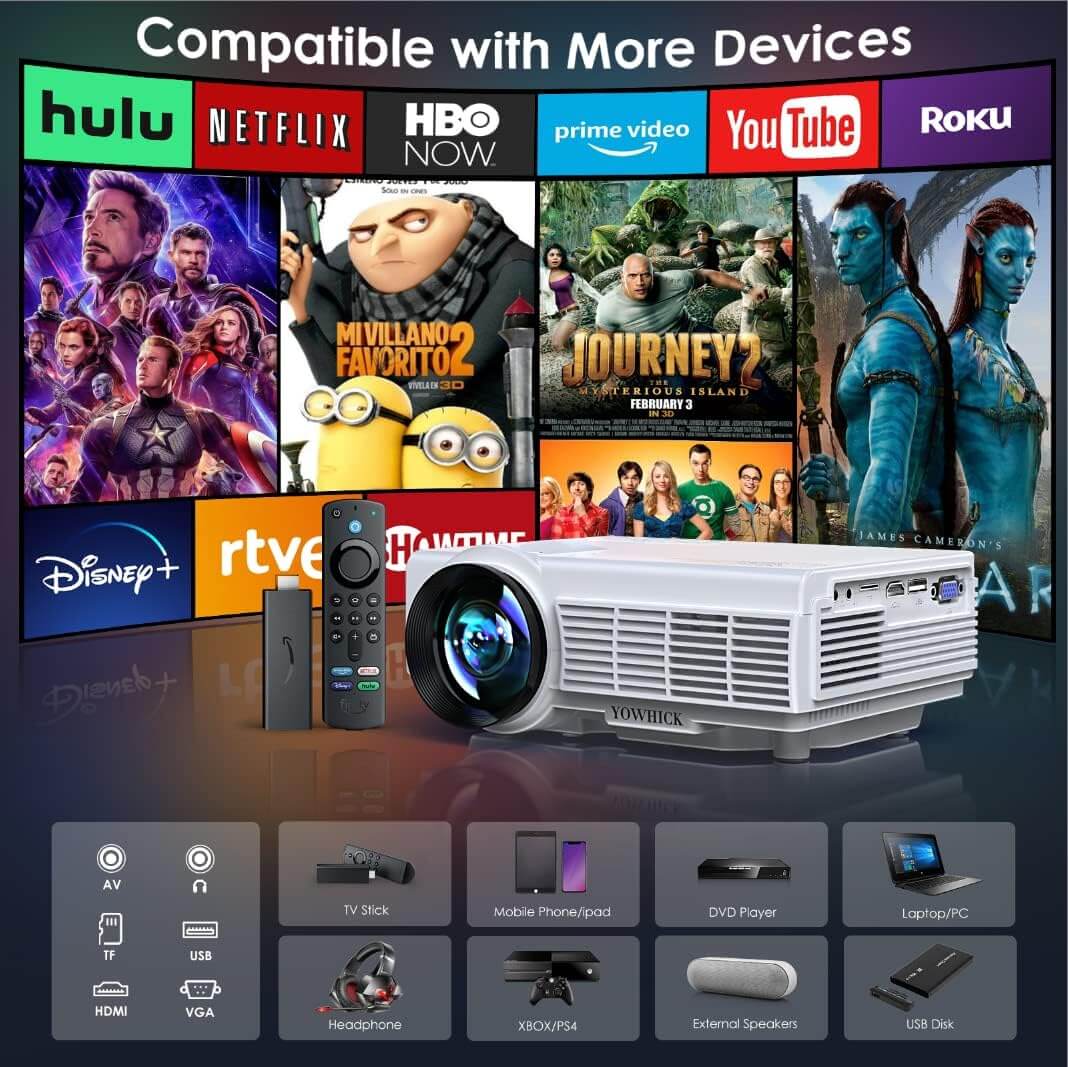 Good Product
100" screen was shipped in lieu of 200". Price was much cheaper on Amazon for newer DP03 projector. Picture looks good enough on painted wall.
Amazing customer service!
This company truly cares about customer and if you ever have any questions or issues with your projector they will fix it right away! I loved how quick they got back to me and their warranty is absolutely amazing!! 10/10 definitely recommend. The projector quality is great and sound!!
Fun little projector.
I wanted something that I could make picture size adjustments so I figured I'd try this. I could go from big screen, to medium screen to small screen by moving closer or farther away from the screen. It was easy to hook up to WiFi and it was very easy for my phone to stream to. I did not have any connection issues at all. It comes with a remote, audio chord, and HDMI chord. I haven't used any of those things yet and not sure if I plan to. The sole purpose was to steam my phone. Anyway, it also comes with a screen. I would suggest that if you use the screen that it has a solid back like a wall behind it. I had mine hanging just inside my closet. The picture is actually really great, rather impressive. The sound comes out of what seems like a single speaker in the back, so it's not great, but it's sound and you can hear the dialogue from the movies clear enough. It has audio jacks if you want to add better and bigger sound. It also has a nice focus adjustment knob for when/if you move it farther or closer to the screen. You can also adjust it up or down to get the picture more square on the screen. It would be cool f it was operating with an android system so you could download apps but to watch movies. Also a longer power chord would be nice. But other than that it's a neat little projector to have some fun. I want to mount it outside when summer comes. It'll be great to watch baseball on a much bigger screen.
Great cost
I enjoy the image quality of this projector. Paired it with my sound bar and I have a pleasing little beginners theater in my living room wonderful product for the cash.
I read some reviews before buying the projector that there's some lag after bluetooth or wifi connection, but I have not encountered this problem. I think it may have something to do with the network signal, the customer service is very helpful and quick to respond, just give them a call if you have any problems, and they will solve it for you quickly. Fairly recommend it.
This thing is great. Plenty bright and it is LED illuminated!
I just bought this projector on Amazon and I am really impressed with it. The unit itself is compact, but the lens is big and the picture is bright. The light source is LED so it turns on in seconds and should last a long time. There are multiple types of inputs. First I tried using it with a HDMI cable from my laptop. I just plugged it in and started projecting. When I put in a USB drive I was able to go through the folders and look at pictures and watch movies.
The unit boots up quickly and the menus are easy to navigate and understand. The packaging is nice and protects the unit so I think I am going to keep the box and padding for storing the unit.
The sample image was in a room with low to medium lighting (not totally dark) and the wall is beige not bright white like the screen (included) and the picture was still great. Can't wait to take it camping for the kids to enjoy.